Keeping the Spirit Alive: Celebrating Day of the Dead in the Yucatan
Hell with Halloween. One sole night for reveling in the reveal of my soul's fantasy? Not a ghost of a chance; I'm opting for the Week of the Wild, Mexico's week-long celebration of the Day of the Dead. With airfares under $300, an impulse trip seems dead right. From October 27th - November 2nd, Mexico will fete visitors, dead and alive, with the joys of life at street fairs, block parties, and cemetery picnics featuring foods, drinks, music, and costumes to die for.
Oaxaca, San Miquel de Allende, Chiapas, and the Island of Janitzio are long-time favorites. But, I head to the Yucatán Peninsula, home of the ancient Maya civilization which still holds the traditional "Hanal Pixan" or "feast of the souls". By day, I literally go underground with shamans to their secret subterranean world of 'cinotes', sacred wells of turquoise pools where Mayans communicate with the gods. Then, it's time for the beach, a late lunch of lobster, and a siesta in a hammock under the palms to rest up for a night of bone-shaking parties with the Calavenas Catrina, the Elegant Cadavers of Mexico.
I've chosen Playa del Carmen as my home-base. Last-minute rock-bottom priced flights to Cancun are easy to find, and, from the efficient, modern airport, a new highway leads just 40 miles south to Playa where accommodations ranging from all-inclusive resorts to charming AirBnBs abound. Along the coast are beaches, swimming holes, Mayan ruins, theme parks, and endless excursions for short day trips that allow plenty of time to explore the town at night when costumed calaveras (skeletons) rattle and shake their bones all night long.
Hanal Pixan: The Mayan Day of the Dead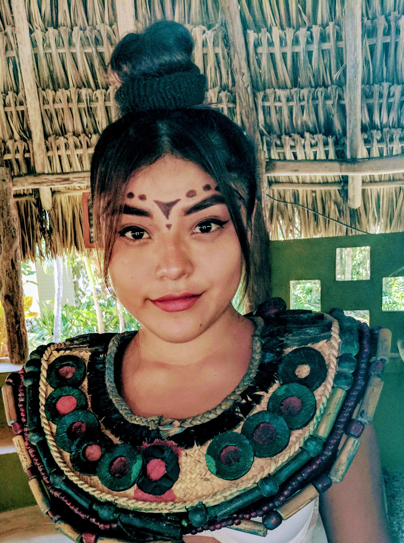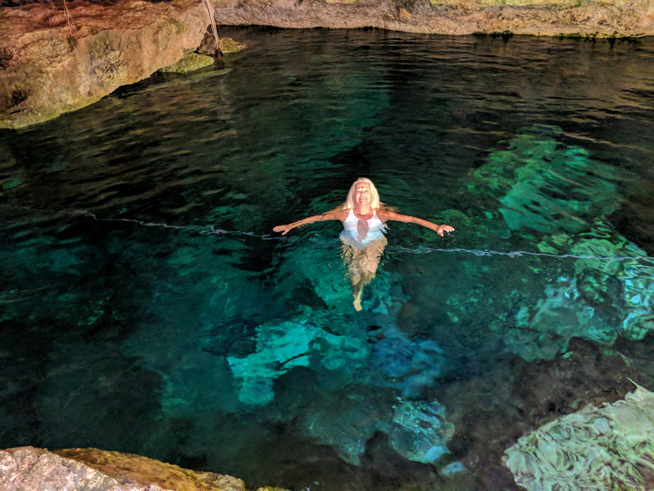 The Elegant Cadaver
To-die-for skulls are as ubiquitous in modern American culture as they have been for centuries in Mexico But while the garishly painted sugar skulls of Mexico that inspired today's urban art are distinctly Mayan, the fashionista skeletons parading on the Day of the Dead are a modern embellishment derived from Mexico's famous female activist. This bone-shaking, graphic heroine, La Catrina, is hauntingly relevant this Halloween poised on the cusp of critical elections.
The "calavera" (cadaver) was born in 1912 as a zinc etching by printmaker, cartoon satorist and lithographer, Jose Guadalupe Posada. Mexico's 'father of graphic arts' was inspired by Mictecacihuatl, the indigenous goddess of the underworld who presided over the October festival of the dead. Posada presented his Lady of Death as a fantastically made-up skull decked out in an over-the-top hat. Posada christened her La Calavera Garbancera incorporating a derogatory term applied to Mexicans who scorned their indigenous roots and worshiped European culture.
Posada was renowned for biting satire illustrated with skulls and skeletons that dug into the dirt of Mexico's current events. So how did La Calavera Garbancera transform into the iconic La Catrina?
It was Mexican painter Diego Rivera who took Posada's skull and gave it a body. Literally. In 1947, Rivera adapted Posada's signature skull into the full-bodied skeleton figure that is the focus of his mural "Sueño de una tarde dominical en la Alameda Central" (1947) ("Dream of a Sunday Afternoon along Central Alameda"). He called her La Catrina, the feminine version of the Catrin, the nickname for a bon vivant dandy in Mexican culture.
But La Catrina was never a dilettante; In Posada's hands she was a bare-bones, political activist. Posada's calaveras — La Catrina above all — were designed to rattle the bones of a country crippled by the polarizing regime of Porfirio Diaz. Bloated with greed and grandeur, the dictator "modernized" Mexico through a reign of repression and terror.
By giving life to newspaper coverage of extreme income inequality and injustice, La Catrina brewed rebellion in the hearts of the poor, igniting the movement that toppled Diaz and evolved into the Mexican Revolution.
Far from a simple free-spirit, La Catrina has come to represent a satirical obituary for narcissistic oligarchs pandering to foreign influences. La Catrina is as relevant today as she was a century ago.
Viva La Catrina!